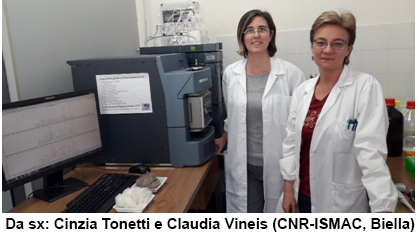 The proteomic method based on liquid chromatography coupled with mass spectrometry (LC-ESI / MS) has become international standard: ISO 20418-1 Textiles - Qualitative and quantitative proteomic analysis of some animal hair fibres Part 1: Peptide detection using LC-ESI-MS with protein reduction. This methodology was developed by the Institute for the Macromolecular Study (ISMAC) of Biella for the qualitative and quantitative analysis of luxury animal fibers such as wool, cashmere and yak.
Leading companies in the textile sector need an objective and precise analytical methodology able to univocally identify and quantify wool, cashmere and yak fibers present in textile articles, even in blends, to guarantee the quality of their products and to protect the consumers.
The research work and development of the method started in 2011 from a collaboration between the CNR-ISMAC of Biella and the research team of Prof. Stefano Sforza of the Department of Food and Drug of the University of Parma, thanks to the funding of the Cashmere and Camel Hair Manufacturers Institute (CCMI) of Boston
Then 12 prestigious Italian textile companies financed the purchase of an ultraperforming liquid chromatograph coupled to a mass spectrometer (UPLC-MS) by ISMAC Biella, necessary to validate the new method.
In 2014, the proteomic method became an internal standard of the Institute and the transformation process into international standard has begun. Finally, in March 2018 the standard was published.
Dr. Claudia Vineis and Dr. Cinzia Tonetti participated actively in the standardization process within the GL7 working groups of the UNI Textile and Clothing Technical Commission no.046 and ISO WG22.
The standard method will be also adopted by CEN (European Committee for Standardization) and UNI (Ente Nazionale Italiano di Unificazione) soon.
In the meantime, ISMAC Biella is continuing its research to verify the applicability of the proteomic method also to the South American camelids (lama, alpaca, vicuna and guanaco) and camel hairs, so that in the future it will be possible to extend the standard to these fibers as well.