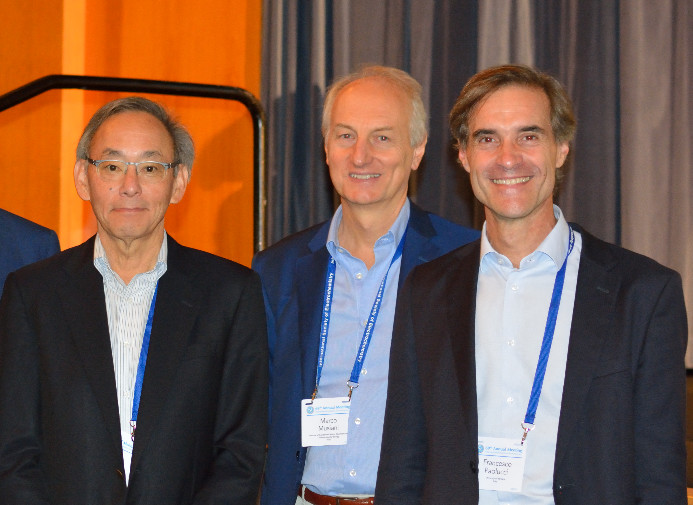 Bologna, 2-7 September 2018. Organized by a committee chaired by doctor Marco Musiani, ICMATE CNR,
and professor Francesco Paolucci, Bologna University and ICMATE associate, the 69th Annual Meeting of the International Society of Electrochemistry (ISE) has taken place in Bologna, on 2-7 September 2018. The participation of 2033 delegates, from 55 countries, has been the largest in the ISE history.
Steven Chu, Marco Musiani and Francesco Paolucci at the 69th Annual Meeting of the ISE
The scientific program included 6 plenary lectures, 58 Keynote lectures, 826 Oral communications, 1132 Poster communications and 3 tutorials. The plenary lecturers, in chronological order, were
Doron Aurbach, Bar-Ilan University, Israel, "Novel Electrochemical Methodologies for Analysing Composite Electrodes in Devices for Energy Storage".
Steven Chu, Stanford University, USA, 1997 Nobel Prize in Physics, "The Role of Electrochemistry in Providing Technical Solutions to the Climate Challenge".
Justin Gooding, University of New South Wales, Australia, "Well-defined Nanoscale Architectures Provide New Opportunities in Bioelectrochemistry Down to Single Entities".
Shelley Minteer, University of Utah, USA, "Electrocatalytic Cascades for Energy Conversion and Electrosynthesis Applications"
Marc Koper, Leiden University, Netherlands, "Electrochemistry of platinum: new views on an old problem".
Flavio Maran, University of Padua, Italy, "Electrochemistry of Monolayer Protected Gold Nanoclusters".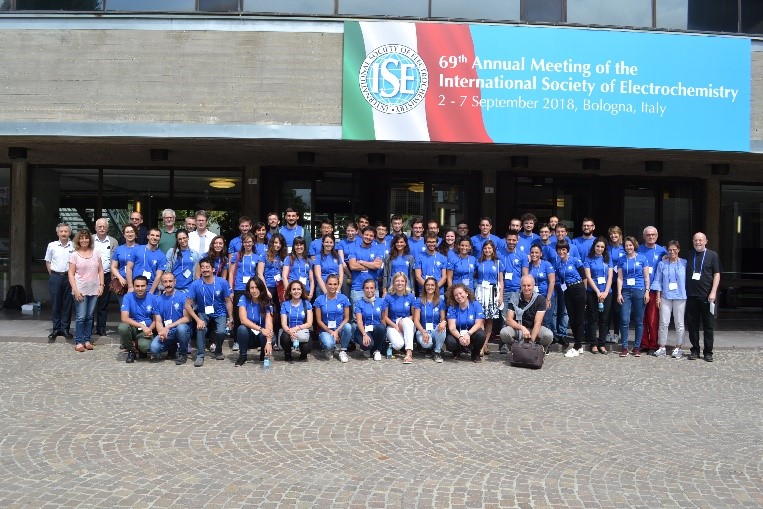 The mayor of Bologna, Dr. Virginio Merola and the Magnifico Rettore of Bologna University, Prof. Francesco Ubertini participated in the opening ceremonies that included "a little taste of Italian opera", performed life. A banquet was held at Palazzo Isolani, in the heart of medieval Bologna.
ISE Executive Committee and ISE "Student Helpers" in front of the Nuovo Polo Congressuale, Bologna