In the human body, biomineralization and calcification processes are fundamental in bones, but also other minor calcifications types can form in different sites, including kidney, arteria, thyroid, brain and breast.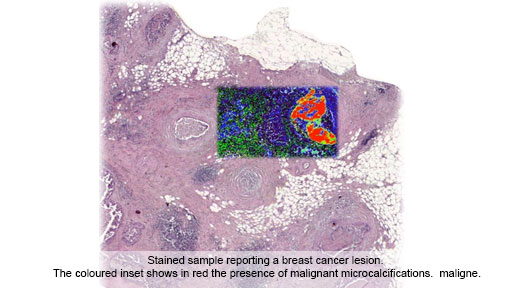 Microcalcifications are a common sign in mammography. In a large portion of cancer cases (90% of ductal carcinoma in situ), microcalcifications are the first and unique sign indicative of the presence of the lesion. Consequently, a very large number of biopsies are performed due to the presence of microcalcifications but, fortunately, up to around 50% of these biopsies reveal a benign lesion (a "false positive"). On the other hand, a huge number of patients (millions in the last three decades) underwent a biopsy that finally resulted negative for cancer. This produces an excess of invasive procedures associated with psychological stress, discomfort, and elevated costs for healthcare systems.
Ideally, if we could recognize the malignancy of suspected breast lesions without performing biopsies or, at least, reducing those further associated with false positives, we would solve a current unmet need.
Researchers of Istituti Clinici Scientifici Maugeri and University of Milan, in collaboration with colleagues from the Italian National Research Council (CNR) in Bari, from Pavia University and from the Paul Scherrer Institute in Switzerland, has recently conclude a multidisciplinary study, published in "Cancer Research" to clarify whether the composition and crystalline structure of microcalcifications correlates with breast cancer. Almost 500 microcalcifications were investigated in patients presenting cancer or benign lesions using Raman imaging spectroscopy. This approach has unique capabilities to easily study the biochemical composition of biological samples, in particular those presenting mineralized components. In parallel, they confirmed the data obtained using different scanning X-ray microscopy approaches able to validate the crystalline properties of microcalcifications.
Results demonstrated that breast microcalcifications detected in tumour have specific chemical and crystalline features, different from those observed in benign samples. In details, microcalcifications associated with malignancy are more homogeneous and more "crystalline", suggesting that their formation could be related to active and fast processes, producing more "pure" crystals. Moreover, the study report that microcalcifications detected in tumour, but located outside the lesion, show malignant features too. This indicates that cancer influences the surrounding tissue even if this apparently show healthy morphologically features.
These results indicate that the biochemical differences between benign and malignant microcalcifications can be potentially identified by light-based tools, able to investigate microcalcifications inside the breast without performing biopsies. Next steps will be on the development of such new diagnostic instrumentation able to potentially reduce the number of false positive biopsies thanks to the easier identification of malignant microcalcifications.
Who: Istituti Clinici Scientifici Maugeri IRCCS, Pavia; Università degli studi di Milano; Istituto di cristallografia (IC) del CNR, Bari; Università degli studi di Pavia; Paul Scherrer Institute, Svizzera.
Article: "Raman Spectroscopy reveals that biochemical composition of breast microcalcifications correlates with histopathological features", https://cancerres.aacrjournals.org/content/early/2020/02/22/0008-5472.CAN-19-3204
Info: Renzo Vanna (This email address is being protected from spambots. You need JavaScript enabled to view it.); Fabio Corsi (This email address is being protected from spambots. You need JavaScript enabled to view it.); Cinzia Giannini (This email address is being protected from spambots. You need JavaScript enabled to view it.)